I'm gunna be moving my posting to Mastodon so if you want to follow me there I'm at @robb@social.lol
The Last of Us show is so good I haven't stopped thinking about it since it started. Like, every day I'm thinking about it.
🎙️ Ruminate 159 - Memoji Meeting
RIP to the Playsation Plus collection, Hi-Fi Rush, The Last of Us (game), and we go on a tear about Apple products.
Follow the podcast at @ruminate@masthead.social
It was pretty good actually thanks for asking.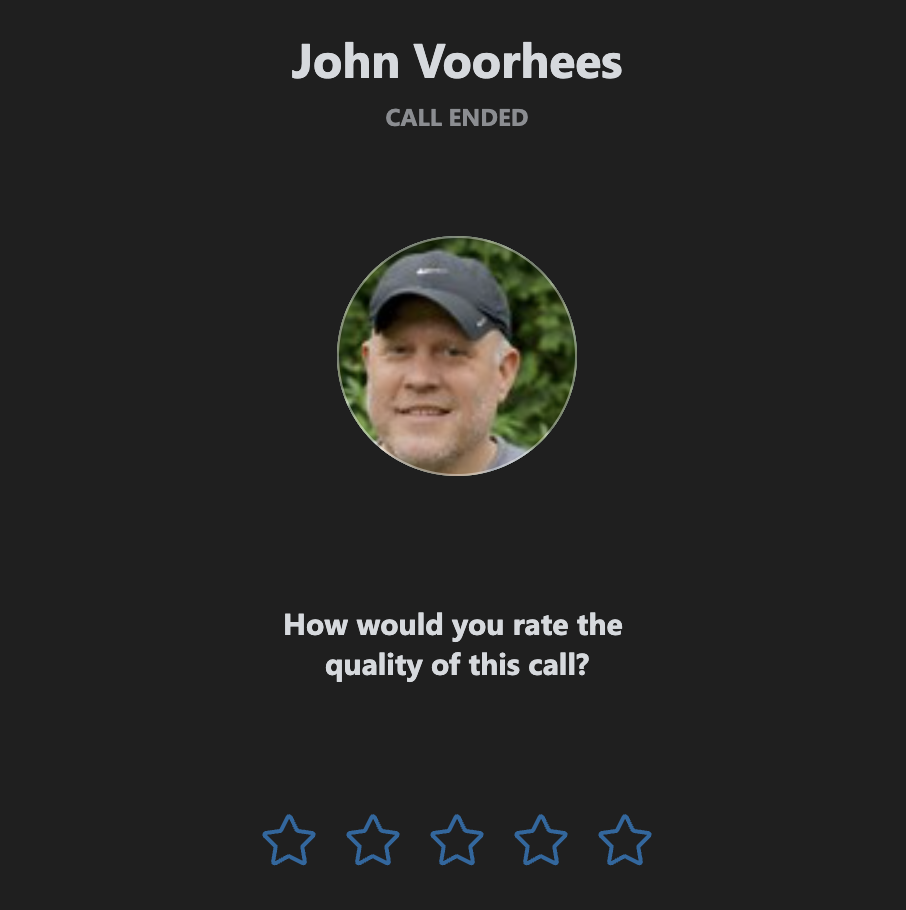 Looks like Reeder is what I want. Thanks folks.
Are there any RSS apps on iOS that have more of a Twitter-like timeline where you just scroll new posts in chronological order?
🫠 Computers were a mistake
Posted a follow-up to my webmentions post with some additional links and tools including an Eleventy plugin I didn't even think to look for 🤦‍♂️
💬 Adding Webmentions to Your Site
In which I fumble through and somehow get this working. I've tried to explain what I've learnt as best I can but I'm still not 100% on how this works if I'm honest 🤷‍♂️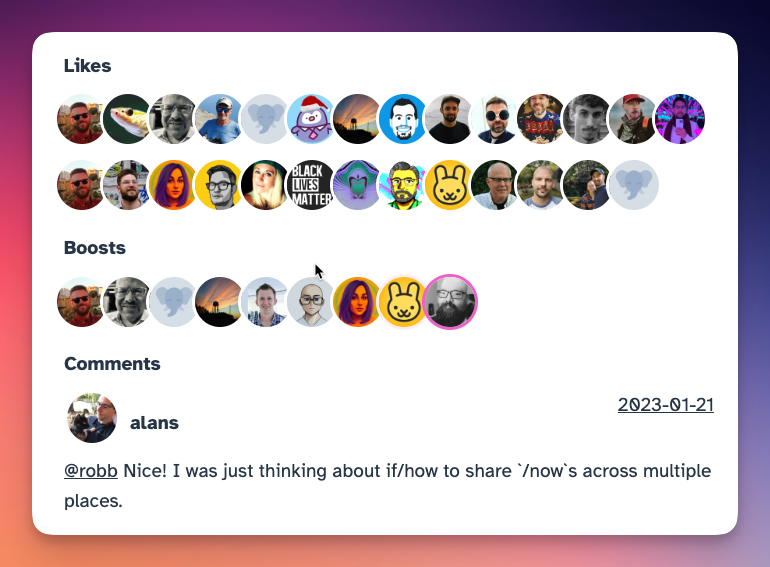 Webmentions are live and working on blog posts right now if you wanna take a gander while I try and write this post.
I'm not even sure I can write a blog post about webmentions because I'm not sure I can even explain it in a reasonable way. But I will attempt it.
Look at all these cool people (it works 🙌)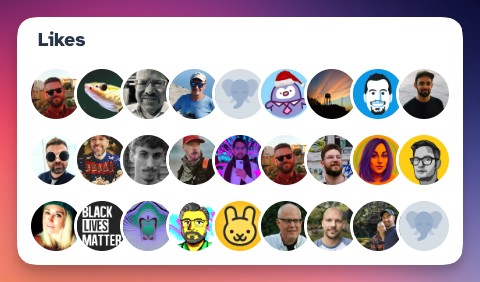 Wondering if anyone decides to show webmentions for pages on their site as well as blog posts? Blog posts is obvious but I'm not so sure about pages.
There is discussion happening there so seems like maybe yes? I dunno.
forgot about the new episode of The Last of Us. That first, THEN webmentions.
Time to find out how on earth webmentions work.
Added my oddly-specific music playlists to my projects page. Any suggestions for these two are very welcome.
With the help of eleventy-plugin-og-image I now have automatically generated og images for my metatags on my site 👌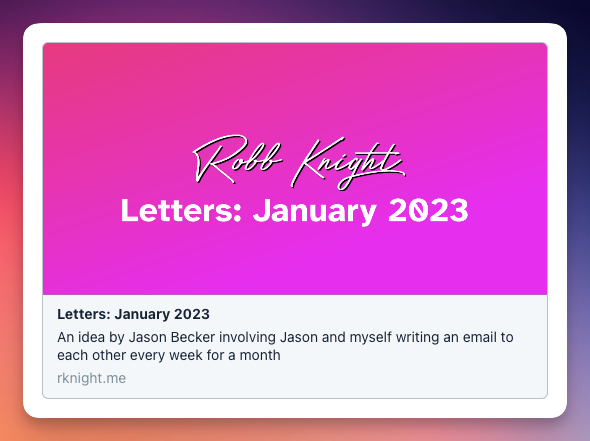 New blog post: Twitter Backup and Archiving Options. If only I could follow my own advice:
Don't care about your tweets. Let them wither away into the ether. Be free from the shackles of hoarding your data.
"Jury's still out but you can't deny that view"